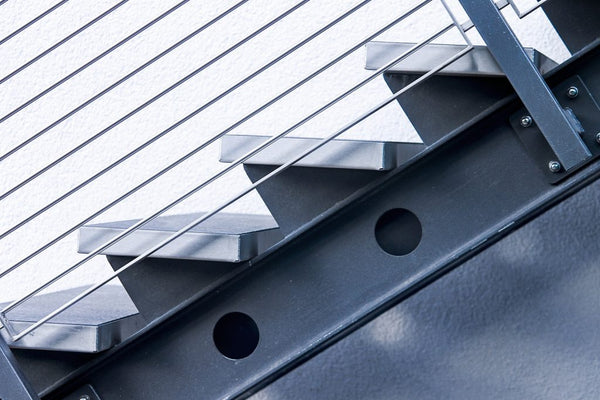 Custom Fabricated STeel Staircases
Industrial steel staircases tailor-made to your needs and specifications. Whether for residential or commercial use, we guarantee beautiful, durable, and cost-effective stairs.
Staircases are an essential part or feature of any building or architectural design. Since they are both functional and decorative, staircases add value to a building's infrastructure.
 Although there are several different ways and designs for building staircases, the most important requisites for any set of stairs is safety and durability.This aspect covers the materials and methods used to build the stairs, and custom made metal stairs offers a great advantage in this area.
Custom Metal Staircases: Built to Last
If you're constructing a house or other infrastructure that includes or requires the use of stairs, you'll undoubtedly use the best materials available. Custom metal staircases have been proven to be durable, reliable,and long lasting. They are an excellent choice if you want high quality and good value for your money. The metal itself is a perfect guarantee that you'll have a sturdy stair that can withstand heavy loads. It is less prone to environmental damage, needs less maintenance, and can last much longer than any other material.
 Custom steel stairs give you the freedom to choose a design that suits your personality and style, in addition to being long lasting and ability to handle a regular heavy load.
Get a Quote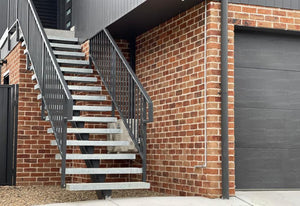 The Architectural Charm of Steel Staircases
Custom made steel staircases are becoming increasingly popular, especially in homes with large outdoor areas. These stairwells are not only functional, but they also are aesthetically pleasing and enhances the overall look and appeal of any property. Prefabricated exterior metal stairs that are custom designed contribute to the visual appeal of the outdoor. It has an architectural charm to it that is very attractive.
Prefabricated steel stairs have the advantage of being so easy to install on-site with minimal disruption. If you have a limited space in which to build your staircase, prefab allows you to have precise measurements and placements because it can be built in smaller bits. It also helps you avoid wasting resources and damaging your beautiful front yard.
Get a Quote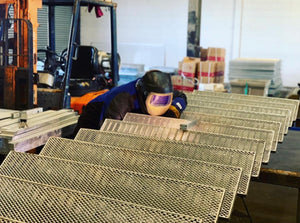 Ferrum: The Custom Fabrication Experts
You won't have to look far in New South Wales to find a steel stairs manufacturers. Ferrum is ready to assist you. We have hundreds of jobs completed to perfection and hundreds of happy customers, thanks to our years of experience in the metal works industry.
Since designing and constructing your custom metal staircases is not a task for just anybody, our custom fabrication experts will collaborate with you to complete your staircase project in no time.
For your custom metal stairs, only the best would do, and you already know it is Ferrum.
Get a Quote
Send us a message to get a quote